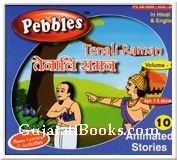 Product information
Tenali Raman Vol-1 - Hindi
Description :
In the Indian History,Tenali Raman was called a Vikata Kavi(a great Court Jester) in the kingdom of Krishnadevaraya,hailing from the place called Tenali.(Reign:1509-30).Tenali Raman the Darling of Vijayanagar Kingdom is known for his Intelligence,Presence of mind & Sense of Humour.

10 Wise Stories of Tenali Raman-
Art Sense,
Kin Punishes Raman,
Cat fears milk,
Raman steals Brinjal,
Who doesn't lie,
Born to be free,
Krishna tests raman,
Raman enters Court,
Lesson with Intrest
Free Labour
The Stories are given in 2 Languages English & Hindi teaches morals & also entertain them .
This CD is compatible with PC/VCD/DVD.
The Games & Activity section for PC will bring the children more fun & develop Concentration.
Delivery:
Will be send by Air Mail out of India & by courier within India.
FREE DELIVERY WORLDWIDE
Additional product information