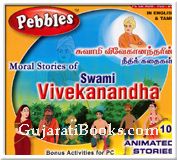 Product information
Swami Vivekananda - Tamil
Description :
Swami Vivekananda the chief disciples of Sri Ramakrishna Paramahamsa was one of the most famous and influential spiritual leaders of the philosophies of Vedanta and Yoga and a major figure in the history of Hinduism and India. Swami Vivekananda has attained enlightenment in his early ages and preached spirituality, peace and moral to the millions of youngsters in the world through innumerable discourses. This CD brings a set of 10 Stories of Swami Vivekananda which depicts the spirit of Honesty, Sincerity and helping tendency in the young minds with Good Animation in 2 languages English/Tamil.
Duty is Prosperity
Intelligence
Work is Workship
Say What you Mean
Bad Company
Undaunted Effort
Know Yourself
What is Charity
Small Minded
Selfishness
This CD is compatible with PC/VCD/DVD.
Special Activity section for PC included.
Delivery:
Will be send by Air Mail out of India & by courier within India.
FREE DELIVERY WORLDWIDE
Additional product information