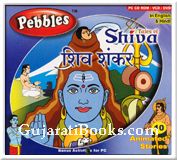 Product information
Lord Shiva - Hindi
Description :
Lord Shiva the Preserver & Destroyer of the Universe is one of the major deities of Hinduism.Stories about Lord Shiva says how his devotees worship him for the wellbeing of the Universe ,how he is pacified & how his blessings save the mankind.
Kirtimukha,
Lord Vishnu,
Draupadi,
Ravan,
Sharabha,
Markandeya,
Daksha
Arjun,
Brahma,
Basmaka.. are the 10 intresting stories of Shiva Shankar which portrays how he saves Human.
The stories are short plotted for the kids in 2 Languages English /Hindi & with Good Animation.
This CD is compatible with PC/VCD/DVD.The Games & Activity section for PC will bring the children more fun & develop Concentration.
Delivery:
Will be send by Air Mail out of India & by courier within India.
FREE DELIVERY WORLDWIDE
Additional product information