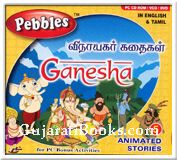 Product information
Lord Ganesha - Tamil
Description :
Lord Ganesha is a Hindu Mythological Character known World wide for his famous tusk bearing head & the human body. Lord Ganesha`s childhood & his wisdom are very popular all over the World.

The 5 interesting stories of Lord Ganesha with Good Animation are packed with wise & wisdom which will enrich the kids knowledge & have nice fun.

The 5 interesting stories are
Got Elephant Head,
How lost his Tusk,
Kaveri was born,
Helps his Mother,
Pride before a fall.
The activity section which has puzzles,coloring etc would develop their Memory Skills, Concentration, Analytical ability & above all creativity.

This CD contains stories in 2 Languages English/Tamil.

Special Activities & Games are provided in PC for kids.
Delivery:
Will be send by Air Mail out of India & by courier within India.
FREE DELIVERY WORLDWIDE
Additional product information