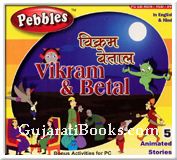 Product information
Vikram And Betal - Hindi
Description :
Vikram & Betal is the story of King Vikramaditya who was famous for his courage, wisdom, justice and truth. He lived for his people and ruled the country in a noble way. Betal, a spirit accompanied him in his life after he possessed it. Betal told many stories to Vikramaditya.These stories are very fascinating ,puzzled and interesting.
Vikram Betal are plotted in short for kids to entertain them without altering the story.
Stories are in 2 languages English and Hindi to make the kids understand better.
This CD is compatible with PC/VCD/DVD.
The Games & Activity section for PC will bring the children more fun & develop Concentration.
Delivery:
Will be send by Air Mail out of India & by courier within India.
FREE DELIVERY WORLDWIDE
Additional product information