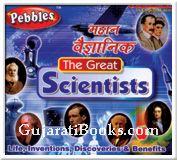 Product information
The Great Scientists - Hindi
Description :
Scientists Inventions and Discoveries have changed the world scenario in the fields of Science and Technology. Kids of this generation hardly know about these Scientists life and their hard work. This Great Scientists CD is a torch bearer to the younger generation which brings the life, the struggle, how they invented things and above all how they are useful in our day-to-day life. The CD about Great Scientists will inspire the kids to do research and have a sharp mind. It is picturised with Good Animation and is presented in 2 languages English/Hindi.
Darwin
Edison
Wright Brothers
James Watt
Newton
Nobel
Graham Bell
This CD is compatible with PC/VCD/DVD.
The Games & Activity section for PC will bring the children more fun & develop concentration.
Delivery:
Will be send by Air Mail out of India & by courier within India.
FREE DELIVERY WORLDWIDE
Additional product information