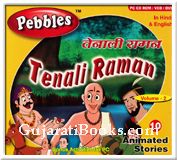 Product information
Tenali Raman Vol-2 - Hindi
Description :
Tenali Raman was called a Vikata kavi, Clown, Jester, Poet, Minister, in the court of the ruler of Vijayanagar, Krishnadeva Rai. Tenali Raman had a Multifaceted personality, he is a scholar in Marathi, Tamil and Kannada, along with this his humourous sense made him Very Popular among the people.
Tenali Raman V-2 CD has brought you another 10 intresting stories of Tenali Raman:-
Jar of Seeds,
Clever Son,
Trip to Delhi,
Lost ring,
Hungry horse,
Cat for horse,
Sharing the reward,
Thief behind bush,
The Proud magician,
Nothing for Nothing.
The stories are short plotted with good Animation in 2 languages English & Hindi.
This CD is compatible with PC/VCD/DVD.
The Games & Activity section for PC will bring the children more fun & develop Concentration.
Special Activity section for PC included.
Delivery:
Will be send by Air Mail out of India & by courier within India.
FREE DELIVERY WORLDWIDE
Additional product information