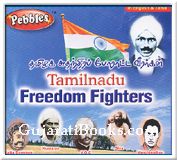 Product information
Tamilnadu Freedom Fighters - Tamil
Description :
India attained Independence in 1947 from the British rule after a long and valiant struggle. It went through many phases, guided by indomitable spirit of or great leaders.
Many Leaders from Tamil Nadu had contributed their entire life to Indian Freedom Struggle. Tamilnadu Freedom Fighter's sacrifice, selfless service and leadership defeated the evil designs of British and played a great role in the Freedom Struggle. Tamilnadu Freedom Fighters contributed their life and soul to this Country.
The short narration of these Indian Freedom Fighters is in 2 languages - English/Tamil.
Kattabomman
Bharathi
Kumaran
Vanchinathan
V.O.Chidambaranar
Siva
This CD is compatible with PC/VCD/DVD.
Delivery:
Will be send by Air Mail out of India & by courier within India.
FREE DELIVERY WORLDWIDE
Additional product information