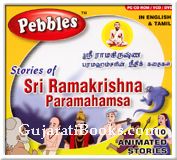 Product information
Sri Ramakrishna Paramahamsa - Tamil
Description :
Sri Ramakrishna Paramahamsa's stories are presented for younger generation with pride. Out of reverence and love his devotes call him "Thakur". He was the living encyclopedia of religions. Sri Ramakrishna was the most rational mystic. With scientific precision he put forward his teachings in most simple terms, as parables and stories, the eternal truth regarding God and God realization. These stories depicts the qualities of being good, kind and harmless. Sri Ramakrishna Paramahamsa is in 2 languages English/Tamil.
Stories:
A Thief turning Sadhu
Faith never falls
Go forward
Greedy servant
Selfish Merchant
Shape of an elephant
Merchant and demon
The Three Robbers
The will of God
True Devotion
The CD is compatible with PC CDROM/VCD/DVD.
Special Activity Sections for PC included.
Delivery:
Will be send by Air Mail out of India & by courier within India.
FREE DELIVERY WORLDWIDE
Additional product information