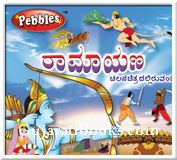 Product information
Ramayana - Kannada
Description :
The greatest literary work of India The Ramayana is presented in Cinematic Style. Ramayana is one of the greatest epic of India written by Maharishi Valmiki in Sanskrit. Later it was translated by many poets in different languages, notable among where the works of the sixteenth century Hindi poet Tulsidas and the Tamil Poet Kambar of the 13th century.
The Ramayana consists of 24,000 verses in seven cantos & tells the story of a Prince Rama of Ayodhya.It is believed that Lord Vishnu took the Incarnation as Rama the Son of King Dasaratha of the Surya Dynasty.His wife Sita is abducted by the demon Ravana the King of Lanka.
The epic is about how he saves Sita. It contains the teachings of ancient sages and presents them through allegory in narrative and the interspersion of the philosophical and the devotional. The characters of Rama, Sita, Hanuman,Lakshman,Bharathan ,Sugriva and Rāvana are all fundamental to the cultural consciousness of India. Without altering the story, this Ramayana has been brought with Good Animation ,Music well knitted plots & fun.
It is in 2 CDs in Kannada.
This CD is compatible with PC/VCD/DVD.
Delivery:
Will be send by Air Mail out of India & by courier within India.
FREE DELIVERY WORLDWIDE
Additional product information