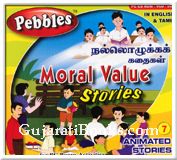 Product information
Moral Value Stories - Tamil
Description :
"Moral Value Stories", is a guide to Children"s good behaviour. These stories entertain, inform, inspire and educate them at the same time.The moral values which are necessary for the btter bringing up of children are told through stories which will encourage children to dewll upon these ideas ad imbibe in their character. These stories show one, the way to love and respect their parents, obey elders, follow the rules and grow up in a wll disciplined manner. These stories are told using animation and in interactive method with rich colours, voice over to make them more fascinating.
Stories:
Useless Friend
Bravery Coward
I am Lasshmanan
Brocken Branch
Laddre Words
Trans Madhavan
Queries Vinayaka
Activity Section for PC:
The question and answer section will imporve the understanding capabilities of the children.
Delivery:
Will be send by Air Mail out of India & by courier within India.
FREE DELIVERY WORLDWIDE
Additional product information