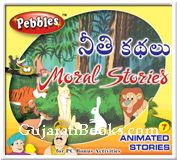 Product information
Moral Stories - Telugu
Description :
Moral Stories teaches simple yet Universal values like honesty,simplicity,togetherness,compassion,love to one another,mutual admiration etc.,to the children in an interactive story format through interesting characters which keep children spell bound.The values and morals thus taught leave a great impact in their tender minds.
The Interesting Moral Stories are
Lion and Cave
Might Elephant
Hare and tortoise
Clever Fox
Crow & Snake
Great Sacrifice
Foolish Donkey
The Stories are in 2 languages English/Telugu.
This CD is compatible with PC/VCD/DVD.
The Games & Activity section for PC will bring the children more fun & develop Concentration
Delivery:
Will be send by Air Mail out of India & by courier within India.
FREE DELIVERY WORLDWIDE
Additional product information