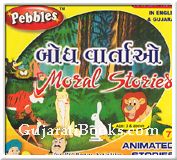 Product information
Moral Stories - Gujarati
Description :
"Moral Stories" is a collection of ever interesting wiseman stories. The carefully chosen stories reveal subtle humour coupled with a moral, through each story a kid has to essentially know.
These stories told in an interesting and enthralling manner through many animal characters with animations and voice over conveys effectively the moral behind each story. They help the kids to think and ponder.
Stories:
Taking Cave
Clever Jackal
Hare & Tortoise
Crow and snake
Mighty Elephant
Great Sacrific
Foolish Donkey
Activity Section for PC:
It will improve the kids ability in Creative skills, Colours, Logical Thinking, The Game section will engage kids for hours.
Delivery:
Will be send by Air Mail out of India & by courier within India.
FREE DELIVERY WORLDWIDE
Additional product information