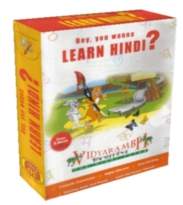 Product information
LEARN HINDI (THE HINDI TUTOR)
Now Learning Hindi Made Very Simple
The Winning Features Of This CD-ROM :
A SuperbMultimedia Experience: User-friendly, interactive, multimedia environment that makes learning Hindi a wonderful experience.

High Degree of Interactivity: The learner never feels alone. There is an efficient assistance available at every stage of learning.

More than a mere 'how to do', it is a 'lets you do'.

100% User-friendly: No complicated instructions or puzzling directives. Just simple routing from each page to every other page.

Simple enough for junior most learners!

Exciting Graphics, Crystal Clear Audio: Contains a variety of attractive, colorful sketches and crystal clear audio effects for easy learning and understanding.

Games And Tests For Assessment And Fun: Twins memory tests, test games, puzzles and other exciting tools to monitor and motivate.

The emphasis is on speaking skills rather than writing or reading.

It is a highly effective and easy handling product

It has an amazing audio and visual effects.
---
Methodology

The Hindi Tutor CD-ROM created after rigorous research and analysis. Equal attention has been given in designing the instructions as well as the content of this CD-ROM.

The CD focuses not on grammar and conjugations, but on communicating in whatever way you can. Since formal grammar is minimized and functional situations are emphasized, the CD-ROM effectively demonstrates and sharpens the speaking skills.

This multifaceted CD creates an interactive environment where learning Hindi becomes effortless. Engaged in this rich, multimedia experience, learning becomes a pleasure and not a struggle.

The CD-ROM is a wonderful combination of lessons, fun activities, interactive games, puzzles and much more that carries away the child without conscious effort into an enchanting world of colorfully animated characters….
Key points which makes our Hindi Tutor unique and much more effective than the conventional…

1. The learner is free to choose from two modes of instructions- English and Hindi.

2. The whole course of learning Hindi is divided into 7 lessons. It is designed in such a way that by the time the learner reaches the 7th lesson (songs), he is capable of reading a Hindi book or even a newspaper.

3. Excellent graphics, crystal clear audio, effective use of interactivity.

4. In the first lesson, the learner only has to keep listening to the Basic sounds, Observe how the language is said and keep repeating the words aloud. He has to try to roll his tongue the way some of the sounds demand and practicing this repeatedly will help him to correct his accent.
---
System Requirement:
PC: 500 MHZ.128 MB RAM. CD Rom Drive
Windows 98 or above. 800 x 600 display
True Color 16bit. Sound Card & Speakers
Additional product information