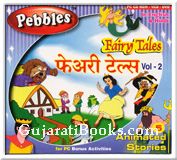 Product information
Fairy Tales Vol-2 - Hindi
Description :
The fictitious Fairy tales are always filled with fun,love & adventures. Fairy Tales V-2 is also fun filled with Good Animation in 2 languages English/Hindi.
The other 5 interesting Stories depicts love,courage & bravery & tell us how the hero & heroines with the help of the fantasy element are saved .
The activity section is provided to help to improve their memory Skills & Creativity.

Stories are
The SnowWhite and the 7 dwarfs
Beauty and the Beast
The Little Mermaid
The Frog Prince
Hansel and Gretal
This CD is compatible with PC/VCD/DVD.
Delivery:
Will be send by Air Mail out of India & by courier within India.
FREE DELIVERY WORLDWIDE
Additional product information