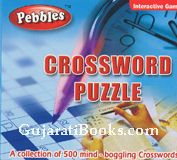 Product information
Crossword Puzzle - Kids Activities
Description :
500 Crosswords for Beginners & Experts
"Crossword Puzzle" is a favourite past time of millions of people , all over the world. Crosswords provides fun,challenge, entertainment and at the same time tests your language skill. It induces and at the same time improve your mastery over the English Language. It keep you alarmed and the clues are thoughtsome and distinct. The Help option keeps you going at times of need by random letter choice.
Features:
Includes 500 crosswords to challenge both beginners and experts.
Gives you the random letters with in a clue if you need an extra help.
Option of a screen note pad for you to jot your ideas on.
4 players can play on the screen at a time.
Saves unfinished crosswords to come back to continue later.
Play against the clock.
Includes 7 display options so that you can change the display of the game.
Option to print out crosswords.
The CD is compatiable with PC CD ROM only.
Delivery:
Will be send by Air Mail out of India & by courier within India.
FREE DELIVERY WORLDWIDE
Additional product information