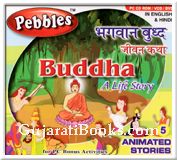 Product information
Buddha - A life Story - Hindi
Description :
Buddha a great preacher of Love towards Mankind was the Prince of Kapilavasthu. Siddharth who later changed his name as Buddha was the son of king Sudhodhana, lead a luxurious life. His venture towards Outside World introduced him to the real life of the world - Hunger, Misery & Sorrow. This made him to search for an end to all of these sufferings & he gave up all of his luxurious life. Siddharth got enlightment under a Bodhi Tree & so he was named as Buddha. After his Ordeal he traveled a lot to preach Love. Buddha A life story is presented in 2 different languages in English & Hindi with good animation & Music.
This CD has presented his life history in 5 different topics -
Birth
Enlightened
Kind Prince
Marriage
Unexpected Sights
This CD is compatible with PC/VCD/DVD.
Special Activity section for PC included.
Delivery:
Will be send by Air Mail out of India & by courier within India.
FREE DELIVERY WORLDWIDE
Additional product information