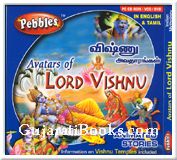 Product information
Avatars of Lord Vishnu - Tamil
Description :
Lord Vishnu the protector of earth is an creation of Lord Brahma as per the Hindu Mytholoy.

Lord Vishnu"s preserving, protecting powers have been manifested to the world in a variety of forms, called Avatars, in which his divine attributes were embodied in the shape of a human being or an animal or a human-animal combined form, possessing great and sometimes supernatural powers.

On Nine Occassions,Lord Vishnu manifested in the animal forms like Fish , Tortoise, Boar, Narasimha (Lions Head & Human Body) and in the Human forms like Vaman, Mohini, Parshuram, Sri Ram and Bhagwan Krishna to prevail over the evil. Of the ten universally recognized avatars, nine have already manifested whereas the tenth is yet to appear.All the Avatars are earthly form of Lord Vishnu , who himself is eternal, unchangeable and immutable.

Avatars of Lord Vishnu Presents.,the Seven Stories in 2 different languages English /Tamil with Good Animation for kids.

Details about Vishnu Temples in India were given .

This CD is compatible with PC/VCD/DVD.

Special Activities & Games section for PC included.
Delivery:
Will be send by Air Mail out of India & by courier within India.
FREE DELIVERY WORLDWIDE
Additional product information