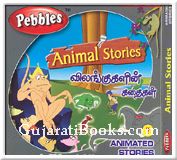 Product information
Animal Stories - Tamil
Description :
Animal Stories is an attempt to teach the children how to understand people and to face difficulties during the time of crisis through some interesting stories.The Stories taken from the core of the society will make children learn the moral through the difference between the good and the evil.The Children will learn more about facts of life in an interesting manner.
The Stories are in 2 different Languages English/Tamil.
Lazy Parrots
Bulbul & Hornbill
Clever Goat
Greedy Crane
Dove & Ant
Rabbit and Hedgehog
Dove and Ant
Tiger & Wood pecker
This CD is compatible with PC/VCD/DVD.
The Games & Activity section for PC will bring the children more fun & develop Concentration
Delivery:
Will be send by Air Mail out of India & by courier within India.
FREE DELIVERY WORLDWIDE
Additional product information